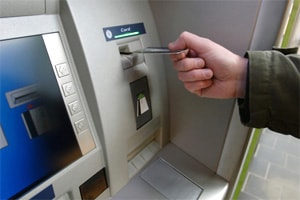 ATMs used to be huge machines built into bank walls, making it necessary to always visit an institution to get some cash out. Today's ATM machines are much more compact, allowing them to fit in even the narrowest store corner. As a business owner, you may contemplate higher profits and the means to attain them. Adding an ATM machine to your brick-and-mortar business could be an expensive initial investment, but it usually pays off over time.
 Make it Known
Regardless of your business's niche, an ATM is customarily found outside at a bank. You must advertise your ATM, especially if one was just installed. Add large signs on the window or even a neon sign. Ask your cashiers to mention the ATM off hand as conversation flows at the counter. If you have a website, advertise the ATM's location. Once customers are used to the machine being available, you can ease up on the aggressive marketing.
 Consider Your Traffic
 When you have more than one store, it's tempting to add an ATM to each facility. However, it's crucial to consider your customer flow. If one location is busier than another, only invest in one ATM at first. A slower store won't have the customer volume necessary to produce the surcharges required to make or break the budget. Once your first ATM is successful, you can contemplate adding one to the other store for consistency among your clients.
 Key Preventive Maintenance
Your ATM isn't just a benign item sitting in a corner. It must be maintained for proper functioning on each transaction. Always insist on a service package or simply keep up with monthly or yearly maintenance schedules. ATMs require adjustments and lubrication to keep the cash flowing smoothly. Even software updates are necessary at times. You don't want the machine to be down for even an hour. Customers simply look for another ATM outlet, bypassing your store and lowering profits.
 More Shopping Options
Not every customer prefers to pay with credit or debit cards. Your installed ATM encourages shopping by offering cash 24 hours a day. People who want to buy that impulse item, for instance, may think otherwise if they are short on money. ATMs provide that instant gratification people crave.
 Leasing or Buying?
Leasing is often the choice for businesses looking to experiment with an ATM at their facility. Maintenance typically comes with the contract along with an opt-out feature. If you are sure an ATM is right for your business, an outright purchase pays off over several years. With the right maintenance, the machine could be pure profit for many years of use. Be careful with any lease or purchase contracts, however. You want some maintenance included along with a warranty period. ATMs are machines that can break down over time.
With smart advertising and attention to maintenance, your ATM can serve hundreds of customers each day. Provide the convenience of fast money to boost profits and better the local economy as a whole. Doing the math shows you the lucrative opportunity an ATM offers.