Coronavirus outbreak has affected all kinds of sports throughout the world. Whether it's a football league or a gaming convention, every sport that involves public gathering and interactions have been heavily affected by a coronavirus.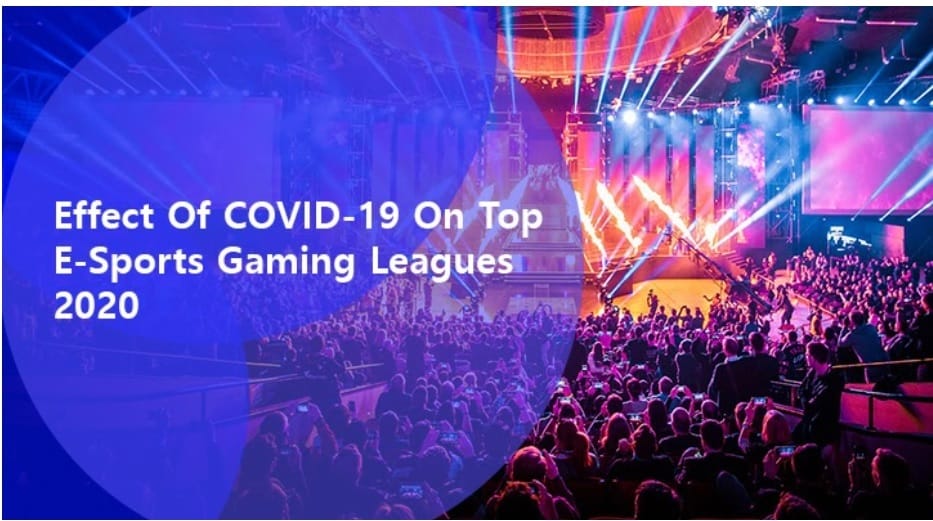 Whether you are watching live streams of E-gaming leagues or playing competitive matches with your friend online, a fast speed internet connection is a basic necessity these days. AT&T internet service offers internet speed up to 1 gigabit through its fine fiber optics and if you are a hardcore gamer, it is ideal for you. 
Don't confuse E-sports with regular competitive gaming. E-sports are proper gaming events across various genres and titles. They involve heavy investments and cash prizes like any other sports event. Participants are certified and qualified gamers who have reached this level through years of dedication and practice. It is a proper career choice if you have the skills desired for these roles.
Due to COVID-19, a lot of gaming conventions and events have been either canceled or postponed. Let's have a look at how some of the most anticipated leagues were affected and their current status: 
1 – LEAGUE OF LEGENDS
Different regions' leagues had a different stance in this situation: 
The Korean League of Legends, League of Legends Champions Korea League (LCK), announced that starting March 9 the play will be suspended for an indefinite period. No new timetable was announced. 
The Professional League (LPL), canceled its offline play and have transitioned all the matches online. 
League of Legends European Championship (LEC) will also resume games online. 
Championship Series (LCS) announced that the finals that were to be held in spring at Dallas, Texas have been moved to LCS studio in Los Angeles, indicating that the league will make a return via online play. 
The start date of each region's Sumer Split has also been adjusted and Mid-Season Invitational was moved from May to July. 
2 – OVERWATCH 
Overwatch League has announced that due to the pandemic, it is canceling all events that required social gathering, i.e. all the homestands have been called off. Instead, all games have been broadcasted and played online since the end of March. They have also made clear that the schedules for the future months would be announced with time as games become available. 
3 – CALL OF DUTY 
All the home standings have been right-off canceled and instead online format has been adopted for the entire series this year. 
4 – FIFA 20 
FUT Champions Cup Stage V that was previously supposed to happen in May has been postponed to an unknown date. EA announced that all e-sports activities have been postponed. 
5 – COUNTER STRIKE – GLOBAL OFFENSIVE 
FLASHPOINT tournament has been moved online. On March 6 it was decided that all matches will be canceled and instead the league and championships will be played in Los Angeles Studio. 
Season 11 of the ESL Pro League has been shifted to a closed studio while the league has completely been shifted online. 
For now, the ESL One Rio 2020 Major has been postponed to November. This is the only major that is expected to happen if the situation gets better. It also comes with a grand prize of $2M. 
6 – DOTA 2 
The United States has imposed a European travel ban because of the pandemic alert, which has resulted in the cancellation of ESL One Los Angeles. Moreover, the major that was supposed to be held in May, EPICENTER Major has also been called off. 
7 – ROCKET LEAGUE 
The season 9 of the Rocket League World Championship was supposed to held in April in Dallas, but it has been canceled due to growing Coronavirus concerns. Teams were informed that the remaining matches will not be played in the Psyonix studios, instead, they will be played online. 
8 – PUBG GLOBAL 
PUBG Global Series that was supposed to happen in Berlin in April was one of the very first gaming leagues to announce the cancellation of its events amid COVID-19. 
9 – HEARTHSTONE  
The Master Tour to Indonesia has been canceled due to the virus. Players who had booked beforehand will be compensated. The tour has now been moved to Los Angeles and would be held online. 
10 – APEX LEGEND 
Major 1 of the Apex Legends Global Series has been postponed to an unknown date, it was originally supposed to be held in mid-March 2020. 
11 – POKEMON 
The European International Championship that was going to be held at Berlin in April has been canceled along with the four Regional Championships. 
12 –  NBA 2K
NBA has been shut down and the league has also been postponed. However, in order to keep fans entertained and engaged, Phoenix Suns announced that it will play its real-life season on Twitch live for the fans. 
These were some of the Majors, tours, and Leagues that have been directly affected by the pandemic situation. Most of them have either been postponed or are being conducted online. Now let's look at what decisions have been taken for fighting games:  
FIGHTING GAMES
Here is the list of fighting games that have been canceled: 
Tokyo Tekken, The Brawlhalla tournament, and Final Round have been canceled. No points will be awarded for Gold and Platinum tournaments by Smash World Tour. Multiple events that were part of the tour are either delayed or canceled.
Mortal Kombat Tournament will not be enjoyed by a live audience either. Moreover, Intel World Open has also delayed the commencement of its Street Fighter open qualifiers that were supposed to be held in March.  
In A Nutshell 
Don't be disheartened at the cancellation of your favorite gaming league matches. There are still a number of leagues you can watch and stream online. This is a dire situation that needs strict measures and E-sports companies have shown great responsibility by taking swift decisions and shifting their games online. More than the fans, these companies had to face a great loss of fortune due to the cancellation of the Majors. So, don't let this situation break our gamer spirit, keep playing, and keep supporting your favorite leagues and gamers. Happy Gaming! 
     

Baldwin Jackson is a successful digital marketer with expertise in search engine optimization and content marketing. The perfect balance of his analytical ability and creative thinking is what sets him apart from other practitioners in the digital marketing realm. He has helped a lot of small and medium-sized businesses in crafting their digital marketing strategies that are not only cost-effective but delivers results as well.
Baldwin is also a proud father of two kids and a Sports enthusiast. When he is not working, you will find him watching ESPN and NFL network. He has been able to get an amazing package on his favorite channels from Buytvinternetphone.com.