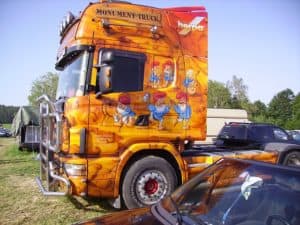 An artistic mind should never go unused.
If you are passionate and talented about art, why settle for a career stuck in a cubicle daydreaming, twiddling your thumb and avoiding eye contact with your boss? If finding a job correlated to your imaginative skillset seems unrealistic, think again.
Artistry is an indispensable talent as well as recession-proof (in terms of business- needs). So, you may have to dive a little deeper intothe "creative" marketplace to find a job that endorses your talent as well as your wellbeing.
Custom sticker industry
The custom sticker industry is booming for products and services looking to add a unique element to their marketing puzzle as well as(more efficiently), echo their brand'smessage.
From customized stickers, wall decals, tailored banners, custom signs, multi-colored and vinyl lettering stickers—buying custom printed stickers has become an essential product for students, businesses and anyone looking to add a bold, glossy depth into their way of life.
If this seems like a career fit for your talented hands, get proactive, as this is a growing business expected to mandate more graphically savvy professionals by the day.
Tattoo artist
Why use paper as your canvas when you can use someone's body? Tattooing is a historically practiced form of art that spans cultures, generations and religions throughout the world.
Today, working in a tattoo studio can seem lucrative and unsettling, however, a talented tattooist is always welcome as it's a business that continues to flourish and needs more artists.
Sure, there is a certain level of narcissism that goes into engraining artwork into someone else's flesh for the rest of their existence, however, it's also a chance to market your own artistic vision and personal brand via a walking-talking human being.
Not to mention, the intangible benefit of making someone happy with your artistry is sure to make you love what you do, which is pretty selfless in my opinion.
Graphic designer 
A graphic designer, or communication design professional, practices the art of projecting visual ideas in the form of tangible content. In today's digital age, the Millennial Generation is more inclined to pursue this type of career that combines artistry with technology. And according to the Bureau of Labor Statistics, nearly a third of graphic designers are self-employed, which will give you more freedom to explore projects that attune to your taste. From bustling corporate businesses to hardworking small businesses, from helping your friends rock band to helping your neighbor find her dog–the opportunities are endless.
If you do choose to pursue a career path associated with graphic design, it's highly recommended that you build a personal online portfolio that showcases your workin hope to attract more interest viaclients or potential employers.
Custom airbrushing 
From customizing automobiles, creating murals, embellishingclothing, and just about any product, person or materialthat requires some form of paint finish—custom airbrushing is popularly,and diverselyused. A steady hand and necessary equipment (which is relatively cheap) is needed for any airbrushing professional. But if you're looking for uniqueprojects that mandate ingenuity and give you the "final say," than custom airbrushing is destined to get you excited each and every day you wake up.