ASKME: "The BAPP Of all Apps" is an All In One Awesome Android Application. It has details of millions of companies within your city in India. This application has choices to locate your local merchants & listings, Classified Ads, Best deals, Buy-Sell stuffs and much more than that . These all the things are available for free.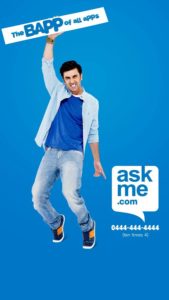 What is AskMe?
AskMe App is developed by Getit Infoservices Pvt. Ltd. for the users in India. You can find nearest restaurants, cafes with this Application. You can even read reviews from an active community of AskMe users and make your choice before buying from your local businesses. With easy and enrich User Interface you can find all the things you need. You can also Purchase Smartphones from your closest area as well as place a free ad on askme to sell your old goods for free.
Features of AskME:
AskMe Application has a very easy to use interface. After installing this app, open it and select your current city if your location services are off. If they are ON then no need to selecting your city and it will automatically detect and show you searches from nearby your locality only. Just type what you're searching for, pick the desired city and hit the Search button.
I was able to find best old smartphones deals from my nearby localities using this wonderful application and so i thought to do a review on this application.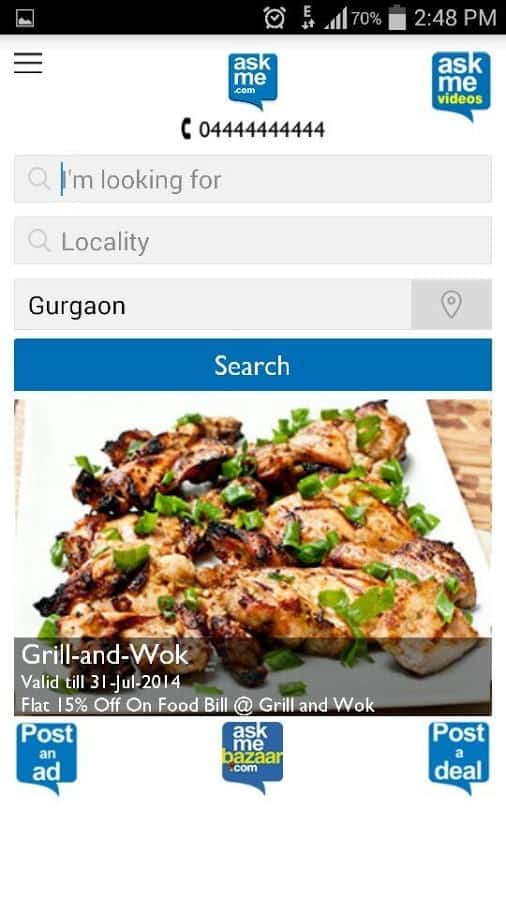 Wannna Hang out with friends for a dinner party? AskMe can find the best local restro for you. For eateries you'll be able to find all the food menus and everything for that particular restro.
Find terrific discounts and save your money. AskME will tell you about all exciting Deals and Discounts.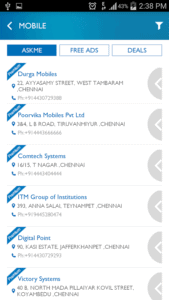 You can buy Goods from AskME Bazaar. Click the Buy now button and you're ready to go. You can pay online via debit/credit and net banking. You just need to open your android smartphone and open this app andsearch for goods you desire to purchase and pay the amount and you go.
Latest classifieds Advertisements:
Read reviews to understand about great businesses in your city and Share favored companies with friends via SMS, e-mail, Facebook and Twitter. AskMe has a huge database of companies. It's possible for you to locate Address of your favorite Companies and even contact them by phone.
Verdict:
I hope this App will help you in your life to locate great deals in your area. You can visit the Google Play Store and download this wonderful application on your android smartphones. Now iOS Users can too download this app from their App Store.