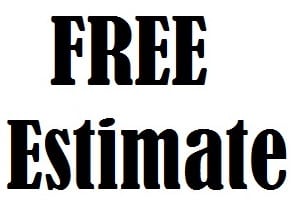 When it comes to getting work done around your home many service companies will offer a free estimate in order to get you to hire them.  Sometimes a service company will in fact provide you with a free estimate and no hidden charges, but there are some companies who advertise free estimates but then will charge you a fuel or trip charge that you weren't expecting.  Here are a few things to consider when getting a free estimate.
Ask What The Free Estimate Includes
When you call for a free estimate make sure you ask all the right questions before agreeing to have a service company come out to your home.  Will you receive your estimate the day the company comes out to your property or will you receive it on another date?  Will your estimate be a rough cost or will it be exact and itemized? Are you getting an inspection or an estimate? Are there any hidden charges when the company comes out to estimate a job?  Making sure you ask all of these questions will ensure you make the most out of shopping around.
Understanding Any Charges
Some companies may charge you a fuel fee for coming out to your property while other companies won't.  For instance, a company may charge a small fee for coming out to your property for a smaller job such as quoting you on rain gutters versus a company who wouldn't charge for a larger job, such as landscaping your property.  Depending on the job and how big, the company may or may not charge you for a free estimate.
The Rule Of Three
When you're shopping around for estimates it is always good to get at least three bids.  Josh Garskof, a real estate expert, recommends that getting multiple bids will almost always drive down everyone's price that is bidding for your business.  Making a decision on one or two bids can actually cost you more money down the line so be patience and shop around.  Try to find at least 3 companies who are willing to come out and give you a free estimate.  By getting three estimates, you will get an idea of the price range then select the company based on flexibility and creativity. It may seem time consuming, but the goal is to get free estimates and a fair price for the job.
The cost of home projects can really add up so it is important to look to save money any way you can and utilizing free estimates is one way to save.  Whether it is shopping around for a fence for your pool or building a patio it is important to get free estimates and ultimately a fair price.