"An ounce of prevention is worth a pound of cure."
―Benjamin Franklin
I am not a big fan of uncertainty and unforeseeable circumstances when it comes to computing. Everything of value on computers should never be left alone to their own, as a possible mishap could see everything disappear in a few moments of madness. You cannot prevent these moments of madness like either manual accidental formatting or a corruption and failure of hard drive. In any case all your valuable data is lost and all you will be left with is headaches and agony. Don't let these mishaps get in your way to a happy computing, and make the most of the right toolset to recover lost partitions and files within.
Why use EaseUS To-Do Backup tool?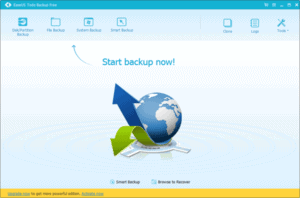 There are two things that make this free tool the best fir for all your data backup and restore activities. First, this tool comes from EaseUS, a very well renowned maker of data recovery tools for the modern day home and office computing. A reliable developer goes in the long way of helping you tackle unforeseeable circumstances and disasters.
Secondly, the tool is excellent at what it does – Disaster-free complete data backup and it being free backup software for home computing is the icing on the cake.
Features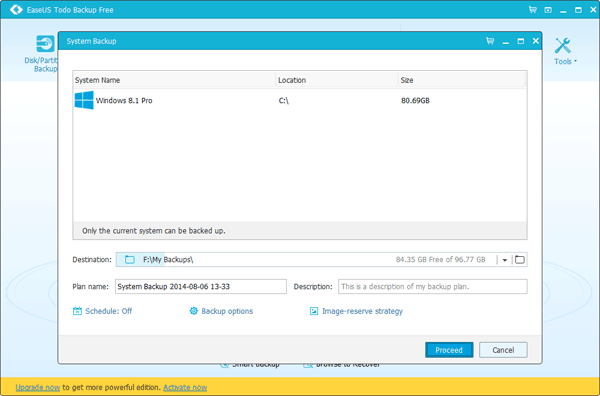 Installation and Compatibility
EaseUS To-do backup tool comes in three variants – Free, Home and Workstation; priced free, $23.2 and $31.2 respectively. The free version will be good for home computing needs, and nothing advanced of the sort of backups to FTP servers. The tool comes in as a 92MB free download, and it supports all Windows version, including the latest 8.1 edition.
Total Backup of your computer
To-do backup is a fast and reliable way to take complete backup of your computer. The tool provides additional features like disk clone, SSD migration and restore. Reinstallation of OS is also not required to get all your files back. Choose to backup individual files, partition or entire system to a safe destination for disaster recovery.
Straightforward backup process
The ease of use for this tool is pretty highly rated. With an intuitive interface and guided steps, backing up entire data is made easy even for the non-technical computer user. Just follow the on-screen instructions and you will be good to go.
Lifetime free updates
Support and updates also make part of a great tool and To-do backup comes with 24/7 Email support and lifetime support for updates to keep you on track.
Conclusion
To-do backup is definitely the best hard drive backup software with complete solution to all your backup and disaster recovery needs. Take complete backups of your system with this free tool to avoid agony during disasters which may see you lose your valuable data. A must have and essential tool for every home computer user who cares for their data and wants to safeguard it with backups.
Pros
Ease of use and accessibility
Complete system, files and partition backups
Disk cloning, SSD migration and other added advantages
Free to use
Cons
The free version doesn't allow excluding files from backup
Free version doesn't include scheduled backups 
Our Rating – 8.9 Out of 10