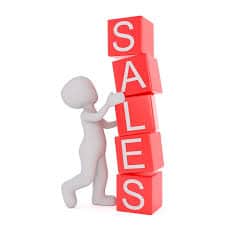 Every business owner is determined to achieve one goal: to increase their sales. It is quite evident that without generating a healthy profit, your business is at risk of collapse. Smaller companies may find it more difficult to attract the attention of potential customers when competing against larger firms, which means they need to implement new strategies to boost sales. This goal should be on the top of your agenda as a business owner. With that in mind, what are the best ways to increase sales?


1. Talk to current customers

Although the initial idea you may have in mind is to draw in new customers, have you ever considered the importance of staying in touch with current customers? Those who have purchased from you previously are in full understanding of the way your business runs and can recommend you to others.

It is far easier to convince a current customer to make further sales than those who are yet to take that leap of faith and part with their money, which is why you should go above and beyond to keep them satisfied. If you have built a relationship with select clients, you could use this to your advantage. You could gain useful feedback on analyzing issues that need addressing and understanding whether there are gaps in the market you could potentially fill with the introduction of new products or services.

You may also wish to ask for referrals if the customer is delighted with your business. Politely ask for the names and contact details of other small businesses they are aware of who may be interested in collaborating with you. This should then get your name out there and increase the sales rate.

2. Pay Per Call Marketing

You may find that you are not getting enough web traffic which is having a significant impact on your sales. One of the best ways to overcome this would be through the assistance of a Pay Per Call marketing company.

Pay Per Call is a technique in which marketers generate calls on a company's behalf. The engagement is a highly personalized form of customer interaction and conversations are held with the intention of making a sale. Through the internet, buyers and sellers are paired, and business is managed over the phone.

Some customers are far more likely to feel at ease with making a purchase if they can talk to someone in real time. It would be especially relevant for the older generation who may not feel comfortable with an online chat feature.

This marketing strategy is extremely cost-effective as businesses only pay for results, so it will be far less of an expense than other marketing tools which can often fall flat. This is, of course, good news for smaller businesses who have limited funds for marketing. Read more here to discover ten questions you should ask pay per call marketing companies.

3. A good pricing strategy

While you may always have kept your prices low to attract customers, a significantly lower cost may suggest that your product or service isn't up to the standard of others on the market. Before you make any drastic changes to your pricing, understand how your customers view your product to encourage the action you want.

Understand how your products or services compare with your competitors to come up with a suitable pricing strategy. You should be aware that any change in price will have an effect on the customer, so you need to be sure about your proposed change before applying it.  If you notice that customers are not looking at your price change favorably, you can always revert to your original price before analyzing your pricing again later down the line.

You may also look into reducing or eliminating shipping charges and offer special discounts for new or existing customers.
4.Consider different payment methods

In the current age, businesses would be missing a trick if they didn't allow credit card payments. It is a proven tactic to improve sales, as customers can pay upfront without having to wait for their next paycheck to come through. If you currently don't accept credit cards, visit your local bank and get an account set up.

If you have a loyal client base, you may also choose to offer a finance program for customers to secure the ownership of a product, but have agreed to pay in installments. It means you have achieved a sale, but the final payment determines the dispatch date. In the past, layaway was a popular payment option before credit cards were introduced. However, those who aren't keen on credit cards may prefer layaway as an alternative.

5. Bundle products or services

Many businesses find they make greater sales if they choose to offer their products or services in a bundle. While you may lose out on a small proportion of profits, it is often much easier to sell packages to wholesalers who will keep coming back to you. If possible, try and keep your packages flexible as a customer may only want a certain number of products, or perhaps only three services out of six in a set bundle.

6. Use social media

If you haven't yet looked into creating social media pages for your business, you certainly need to get on the case! A social media presence can boost your business reach significantly by engaging potential customers with the content shared. You can ask questions, ask for advice and, of course, share information on business news and upcoming products.

With Facebook, for example, you can create a business account with powerful advertising and in-depth analytical tools to monitor activity. There are also customizable options that give you the opportunity to add vital information, such as shop opening hours and the current products on offer.

Instagram, on the other hand, allows users to promote their news and updates through features such as Instagram Live and Instagram stories. There are also scheduling platforms available to ensure posts go out at the most convenient times to capture the attention of followers.