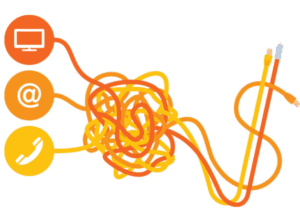 Saving money for future projects, to pay debts, or for emergencies is an important and noble task. However, soaring monthly bills can hinder your efforts. It can be frustrating to be bombarded by the constant onslaught of bills. It's bad enough that you have to give your hard earned cash to these companies. It's worse when you feel like you're being ripped off. According to a Consumer Reports survey on telecom providers, consumers are unhappy with their service providers and gave them the lowest value of all industry service providers.
There is a lack of competition amongst cable service providers. This has led to inflated prices and poor services. It is no wonder that many people are opting to 'cut the cord'. This often means terminating TV and phone services but retaining internet services.
Is cutting the cord right for you
Savings on cutting the cord vary depending on your needs. Live streaming service providers such as Hulu Plus and Netflix will give you access to thousands of shows and movies for a monthly fee of as little as $8. However, these movies may not be the latest and you will not be able to access many of the series that are available on premium channels such as HBO.
If you're a sports fan, you'll have to dish out some more cash to stream games from sports channels such as NBA, ESPN and MLB. This could cost more than $100 per year and many of the most important games are blacked out.
The bundle alternative
Your other option is to go for bundling. This involves selecting service providers for internet, TV and phone and having them all under one service provider. There are many benefits to this approach.
Since a single company is managing all your services, you'll get a single bill for all your services at the end of the month. If you have any queries, you can forward them to a single source. This means that following up on issues will be easier for you.
Having all your services bundled under one provider allows for greater integration of your services. This allows you more options with your services. You can stream TV from other internet enabled devices for example.
Having your services bundled under one provider is more affordable than having three separate service providers to deal with. Providers offer deals on their services to attract customers. You'll therefore be able to save money.
How to get a great deal
Check for available services in your area. Find cities that have DIRECTV service
Compare different service providers. You can use a price comparison site for this. They offer an easy way to compare services. However, be sure to visit the websites of the individual service providers to find out more about their specific services.
Keep your eyes open for deals and offers. Many providers have offers for first time subscribers. Be sure to read the terms and conditions of these offers. Avoid short term contracts or deals that sound too good to be true.
Contact the service provider and go through the contract thoroughly before opting in. Be sure to have them clarify anything that you're not sure about.