The rules governing UK state pensions have recently been overhauled. The new pension system, called the Flat-Rate State Pension, when it goes into effect on 6 April 2016, will affect people who reach retirement age from that day forward. People who retire before that date will continue to be governed by the old pension rules.
Under existing rules, spouses are able to supplement their income through the benefits accruing to them through their spouses' National Insurance Contribution. With the overhaul of the pension rules, this pension benefit stands scrapped. Instead, now, pensions are only earned by people who have worked on their own and paid into the national insurance contribution system.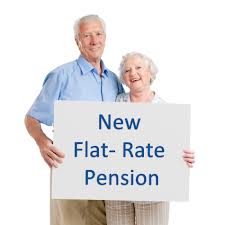 The government's logic behind scrapping spousal pension benefits is that in today's world, most women work full-time, just the way men do. Since women do work, they make their own NIC contributions. The belief is that since they support themselves now, they no longer spousal benefits. The pensions minister Steve Webb has also spoken about how the new system saves money for the government by not paying out to the quarter million spouses of UK citizens who live abroad and never come to the UK. After April 2016, women who don't work and who are married to retiring men, then, stand to lose up to £3,500 a year.
How the spousal benefit system works at the moment
The way the pension system works today, anyone who is married to (or in a civil partnership with) a working person, if they don't get a pension on their own through having worked, can claim up to £66 pounds a week in spousal benefits. To qualify for this pension, the following rules apply.
Both partners need to have reached the age of state pension eligibility.
One partner needs to have worked enough to qualify for at least some basic state pension (whether or not they have ever claimed on their right to draw a pension).
If it's a married man who wishes to draw the spousal benefit, his working wife/partner needs to have been born after April 6, 1950.
Put together, married couples now draw up to £176.15 a week – £110.15 as basic state pension a week for the spouse who worked and up to £66 for the nonworking spouse.
How all of this is set to change
When the new Flat-Rate Pension system comes into effect in April 2016, a retired person's Basic State Pension and his Second State Pension top-up will stand scrapped. Instead, the retired person will receive up to £144 a week (this is in today's money). This payment is made out to people who have worked 35 years and made NI contributions. If you have worked fewer years, you get less. Anyone who hasn't made these contributions – spouses included – gets nothing.
Seen another way, for each year that you work, you get a pension of £4 11p a week. If you have worked 10 years in your life, you get £4 11p x 10 = £41 10p – about half of what a person with a similar working record would get today, together with his spouse's benefits.
Since the Second State Pension system is ending, spouses who have their partners die are no longer able to claim a portion of their partner's Second State Pension, either.
Many people criticize these changes
Women who are young today and who don't work will be able to take these new rules into account and head into the workplace. They could approach Money Vista or another financial planning service and get their retirement plan together. What about women who are 50 years old today, ask experts. They hardly have the time to cope with these changes.
Jon Custer is a tax preparer of several years. In his spare time, he likes to write about what he learns about the latest tax regulations. You can find out about capital gains tax by visiting this page.