There are plenty of reasons businesses have for throwing parties. The holidays are usually a major party time, as are anniversaries like the founding of your business. Celebrating with co-workers can be a great way to build team camaraderie as well as create a sense of company culture for your employees. However, parties can also be hard to plan and expensive to boot. So to help business owners looking to save money yet still have an enjoyable time, here are three ways you can host an inexpensive work party that people will still love.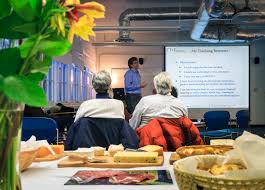 Hold It During Work Hours
If you want your party to be well attended and enjoyed by your employees, you may want to consider holding the party during work hours. While you might feel like you're losing money, the savings you could hold onto from throwing a big after-hours party might surprise you. Unless you have a budget for renting a conference space or other area for the party, try just throwing the festivities at your office or in an outdoor space. And Suzanne Lucas, a contributor to Inc.com, writes that employees always love parties during work hours so they can still maintain their own free-time after work's out.
Only Splurge On One Thing
Most business owners get into financial trouble with parties when they try to be everything to everyone. For your own sanity, it's important to remember that no matter how hard you try, someone is going to be upset or disappointed by what you plan for the party. With that in mind, it's no use trying to please everyone and wasting a lot of money in the process. Rather than doing that, try to just splurge on one thing that you think is meaningful. Claire Zulkey, a contributor to FastCompany.com, recommends splurging on something your employees likely wouldn't splurge on for themselves, like a nice meal.
Make The Games Fun
Depending on how long you want your work party to go on for, you may find yourself trying to come up with ways to entertain your employees without having to necessarily pay for entertainment. A great way to do this is to come up with some fun games that everyone can participate in if they want. Alyson Krueger, a contributor to American Express Open Forum, recommends trying games like a scavenger hunt or lip-sync battles. Just make sure that those who want to play along have the ability to do so and those who just want to watch don't feel pressured into doing something they may be uncomfortable with.
If you have a work party to plan in the near future, use the tips mentioned above to plan an unforgettable party without spending an unbelieveable amount of money.