The recession in America led to thousands of car dealerships shutting down across the country. When had more money, they quickly found that there weren't as many places to shop for new and previously owned vehicles. This means that there is less competition on the market and fewer dealerships for sale. Selling your car lot today gives you the chance to get top dollar and find a buyer ready and willing to take over your business. Before listing your property with an agent, you might look into working with a broker.
What is a Real Estate Broker?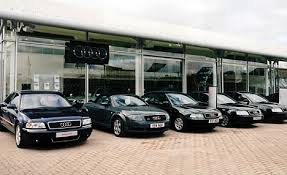 A real estate broker is someone with a real estate background and a network of contacts. Agent's typically only show properties to potential buyers who come to them. This might leave you waiting around for months before an agent brings a potential buyer to your dealership. A broker can immediately send out feelers and identify buyers interested in purchasing a car lot. Brokers will also consult with you about your needs and wishes before shopping around your property. You'll know exactly where you are in the process and how buyers think every step of the way.
Consulting with You
One big benefit associated with working with a real estate broker who specializes in selling car dealerships is that the broker with consult with you. Prior to putting your lot on the market, the broker can inform you of any other dealerships currently for sale and how much other businesses sold for in the recent past. The broker will also work with you to determine the best way to market and advertise the sale. This might involve taking videos that buyers can view online, learning how to highlight the best features of the lot and deciding how to approach buyers through traditional means.
Drafting a Sale
Selling a car dealership involves more work and more steps than selling a house. Your broker can work with both you and a buyer to decide on a final sale price and draft the paperwork needed to close on that sale. Brokers can even meet with your accountant and any other finance professionals to ensure that you get the best price with minimal hassle.